I got asked to review a game that is quite popular on the PC, Primal Carnage: Extinction. The game features teams of humans and dinosaurs, both as playable characters, as they fight each other in death matches and capture the flag type games. I got involved because Primal Carnage is now jumping over to the PlayStation 4. So how does it stack up for console players?
Gameplay: There is no single player component to the game, except for playing by yourself in any of the game modes, of which the only one that has artificial intelligence is Survival. Survival is the now standard mode where endless waves of enemies come after you, and with only limited lives the player must try to live as long as possible. Playing these modes is difficult, but not impossible.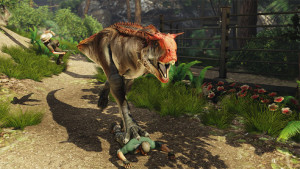 That being said the people I've seen playing this game were all in the Free Roam mode, which I had to admit looks like it can be really fun in terms of emergent gameplay. Emergent gameplay is all fine and good, but as of writing this I have had only three other players play with me at any given time. This can be laid at the fact that the dinosaurs as playable characters are very clunky in terms of control, although to be honest they still moved around way too well for me to suspend disbelief.
I guess I should clarify control a bit better. Playing as a dinosaur means you play in third person, which is great fun, but it lacks the precision that you can get as a human who can play in first person. As a flying dinosaur, I was trying to pick up some hapless sap and bring him into the sky with me for more than twenty minutes, and still never got it to properly work. Such gameplay should be a bit more refined and work better, especially if I'm going to move around like a blimp as a flying dino.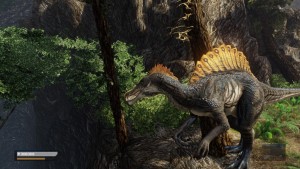 The other, grounded dinosaurs are a bit easier to handle, but attacking with them is still a pain in the butt. The human classes are pretty standard, although the trapper with the net is very much imbalanced if it can net a T-rex's mouth shut for 20 seconds with little to no cooldown.
Overall, I think that Primal Carnage: Extinction can be lots of fun, and you are getting a good value at less than $10 for the game. However, it needs to be refined to work a heck of a lot better on the PlayStation 4. I don't know if it feels as clunky on the PC, but as a gamer, for me the precision I expect from a game with an FPS aspect is severely lacking.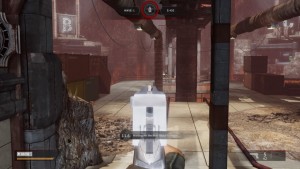 Art and Music: I can only assume they used as much stock assets as possible, and I've got no problem with that. That being said, this is 2015 and looking down and not seeing my character's feet is disappointing. I can't speak for the artists of the dev team, but I would have hoped to see something when I looked down. We are far removed from the days of Golden Eye 64 where such things were acceptable. Musically the game is fine, but nothing special.
Overall: I can't say that this is a must-buy title right now, but for less than $10, you might have a lot of fun playing with friends. Primal Carnage: Extinction earns a respectable 3 GiN Gems.