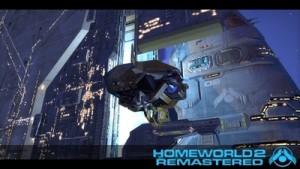 Amid its large-scale presence at the PAX South gaming convention in San Antonio, independent developer Gearbox Software offered a glimpse of Homeworld Remastered Collection, the long-awaited, ultra high-definition remastering of the acclaimed strategy series.
The Texas-based developer also announced that the game will be released for PC on February 25, 2015 (yes, just a month away) with pre-orders open now on Steam for $34.99 — currently just $29.74 with a 15% pre-order discount.
Homeworld Remastered Collection updates and introduces the landmark space strategy games to modern audiences. The collection includes Homeworld and Homeworld 2, painstakingly remastered by Gearbox in cooperation with key members of the original development team and members of the series' passionate fan community.
As a free bonus, this collection also includes the original versions of Homeworld and Homeworld 2 with compatibility updates, preserving the purest form of the original releases. Anyone who purchases Homeworld Remastered Collection will also receive free access to the Homeworld Remastered Steam Multiplayer Beta when the collection releases on February 25, 2015.
The Homeworld series has a long legacy and is regarded by many as one of the best strategy series of all time. Following its release in 1999 by publisher Sierra and developer Relic Entertainment, Homeworld received several Game of the Year awards and redefined the RTS genre. Its sequel, Homeworld 2, launched in 2003, and was similarly praised by critics for its innovative controls and changes to multiplayer.
Brian Martel, Gearbox Software's Chief Creative Officer, has great love and respect for Relic's brilliant, fun and innovative franchise and personally spearheaded Gearbox Software's acquisition of Homeworld from THQ in 2013.
Gamers who purchase Homeworld Remastered Collection will also receive access to the Homeworld Remastered Steam Multiplayer Beta, which kicks off alongside Homeworld Remastered Collection on
February 25, 2015. Competitive multiplayer modes for Homeworld and Homeworld 2 have been joined to offer players access to races, maps and game modes from both games in one integrated multiplayer experience. This beta combines code from over 15 years ago with newly-written changes, and will be shaped by fan feedback as development progresses.
"Homeworld is among the greatest strategy games in history, and we're very proud of the work our team has put into bringing this exceptional series to modern PCs," said Brian Martel, Chief Creative Officer at Gearbox Software. "We received a lot of great feedback from the passionate Homeworld fan community, and we hope to deliver a game they – and new fans from around the world – can get lost in for countless hours to come."