Goodgame Studios, Germany's leading provider and developer of gaming software, has announced the international release of its newest MMO strategy title, Legends of Honor. The new free-to-play game is initially available for browser, with development for mobile already underway. Goodgame Studios wants to expand its position in the US market with innovative gameplay and design.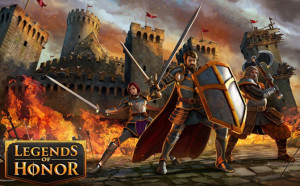 Legends of Honor is the first game that Goodgame Studios will bring onto the market after restructuring its product development processes. The game has successfully passed a test phase in selected key markets over the last few weeks. Like all Goodgame Studios titles, Legends of Honor is designed as free-to-play.
With Legends of Honor, Goodgame Studios aims at increasing its influence on the US market. The gameplay focuses heavily on tactical elements designed to keep players engaged. The game's concept is rounded off by successfully proven building and strategy components, as well as opportunities for interactive gameplay through alliances with other players. Legends of Honor has been designed for mid- to hardcore gamers that enjoy heavy involvement in a product over a longer period of time.
"Thanks to the graphics, the gritty background story, and numerous tactical game elements, Legends of Honor will open up a new player community in the building and strategy segment. We've incorporated the outstanding expertise of the Strategy Games Studio into this new product and developed it further to create a new gaming experience," said Phillip Knust, head of the Strategy Games Studio.
"We're happy to be able to present Legends of Honor as the first result of our new organizational structure. In less than a year, the Strategy Games Studio has made a complex and high quality title ready for the market, and we have high expectations for it. This has also proven the success of our strategy to develop games even more efficiently with independent studios," said Christian Wawrzinek, founder and COO of Goodgame Studios.
A mobile version of Legends of Honor for Android and iOS-devices is already being developed. Goodgame Studios maintains a successful strategy of first making new products available for browser before bringing them to mobile devices.
Legends of Honor is a free-to-play building and strategy MMO browser game. Players collect resources, constantly upgrade their fortresses, and expand their rule in a medieval setting. The game's key components include fighting for the honor of your own faction and exploring the interactive world map, where your heroes are able to move about freely and fight in tactical battles.
Legends of Honor can be played worldwide and will be released in 20 languages.